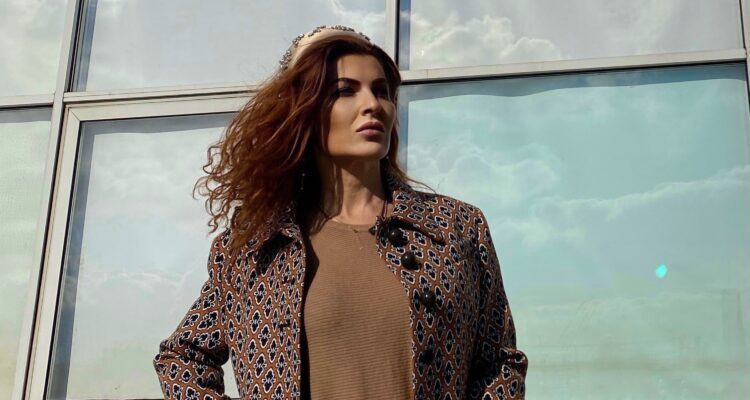 From Runway to Boutique: Q&A with Penny Karabey, Founder of Luxury Next Season
Penny Karabey, Founder and Artistic Director of Luxury Next Season provides access to the most sought out, high-end, and hard to find fashion from runways all around the world. On Luxury Next Season, you'll find a wide array of unique pieces that are constructed to last a lifetime by top brands such as Chloe, Balenciaga, Dior, Bottega Veneta and more.
Along with being the founder of Luxury Next Season, Karabey is also a Jewelry Designer, a board member of Fashion Fights Cancer, a member of Female Founder Collective and Women Entrepreneurs NYC, and the Editor of Fashion Week Pro.
Read below to learn more about Karabey, what inspired Luxury Next Season, working with Fashion Fights Cancer and the future of LNS.
Penny Karabey, Founder and Artistic Director of Luxury Next Season
Background
What is your career background?
I feel very fortunate to have a wide array of professional experience which has given me a greater understanding of business both in and out of the fashion industry. I am a computer engineer and have also worked in IT for over twenty years. My experience with technology has been instrumental in the success of Luxury Next Season. In addition I spent several years as a jewelry designer for a New York based company.
Have you always been interested in fashion?
ALWAYS! I believe that to work in fashion successfully one must have a true passion for it. I have a passion for beauty and design that extends to all aspects of my life from fashion to interior design. I find that surrounding myself with beauty keeps me inspired. I have loved fashion from a very young age and it has always been a goal of mine to run a business in the industry.
Who is your biggest inspiration?
My style icon is Anna Dello Russo. I adore her because she is fearless and she is unapologetically herself. I am inspired by chic women everywhere. From fashion editors on the streets of Milan during Milan Fashion Week to working women in New York, I am inspired everyday. I am inspired most by those who have the confidence to be themselves and by those who are unafraid to take risks. 
How would you describe your personal style?
I would describe my style as uptown luxury meets downtown edge, mixed with European modernity. I am known for my adoration of color and my aversion to wearing black! I believe that one should take risks and I try to exemplify that in my personal style. I experiment with the mixing of patterns as well as fit, silhouette and contrast. My goal is to trigger thought in those that see me. Whether or not they like my style, I want people to think or to have an opinion or reaction. The greatest compliment to receive is " I never would have thought of that… But you look fabulous!" 
What inspired you to start Luxury Next Season?
The inspiration for Luxury Next Season came from within myself. Living on the Upper East Side I felt like there was a gap in the market. There wasn't a place for women like myself who like to stay on the cutting edge of fashion to find accessories. I set out to offer my customers the rarest and most unique pieces from the world's top houses that they may not be able to find elsewhere. I have cultivated strong relationships in the industry that enable me to find the most sought after pieces and bring them to Luxury Next Season.
I believe in running Luxury Next Season according to my personal principles. That means supporting nonprofit organizations both by donating merchandise, and by raising awareness and making monetary donations. I do this because I believe it is important that customers know that Luxury Next Season is more than just my business, it is my life's work and aside from my family is the most important representation of me and my values
How do you incorporate sustainability into LNS?
Buying high quality pieces that are constructed to last is a sustainable practice. The pieces I sell are designed to last for a lifetime and are often crafted in more sustainable manners than lower priced merchandise or fast fashion. On a more personal level, I buy trendy pieces but I only buy pieces that I will love forever, therefore everything in my closet gets worn. 
What is the selection process behind choosing the exquisite fashion pieces that you want for Luxury Next Season?
I am extremely selective with the pieces I choose for Luxury Next Season. I have spent years building special relationships in the industry and I am fortunate to have access to pieces that others may not. I work with brands and vendors from around the world to ensure that I only have the best for my customers. My golden rule is to never sell anything I wouldn't want to purchase myself. 
What makes Luxury Next Season so unique?
Luxury Next Season stocks pieces that are rare, hard to find and often very limited. My goal is to cater to those who are searching for something uncommon or something special. I believe Luxury Next Season is unique because we are not marketing to the masses. We are marketing to our customers and to a smaller demographic of luxury consumers who are looking to stand out.
I love that you founded #NationalAccesoryDay. Why did you decide to do so?
I am an accessory addict! I believe in the power of accessories, they are our expression and sometimes our armor. I started National Accessory Day for those who love accessories to share their favorites and have a time to come together with others who value accessories in the way they do. So far, it has been a resounding success and I am blown away by the positive response I have received!
As a successful female CEO, what are three tips that you believe anyone should take into consideration, while starting their own business?
Be Passionate: Don't go into business with the sole purpose of making money. Go into business to find fulfillment and create both personal and financial growth and success. You have to love what you do to be truly successful.
Surround yourself with people who compliment your skill set and who challenge you: Everyone has strengths and weaknesses and the best piece of advice I have ever received is surround myself with and hire those whose strengths are my weaknesses and whose weaknesses are my strengths. This creates a well balanced team that is built for success.
Be prepared to fail: It will happen. Everyone fails, everyone makes a mistake, everyone loses money at some point. Learn from it. Grow from it. Don't make the same mistake twice.
Fashion Fights Cancer & Future Goals
What is your role as a board member of fashion fights cancer?
I joined Fashion Fights Cancer to lend my skills in their mission to support cancer patients and survivors. I had an incredibly special relationship with my father and when I lost him to cancer I knew that I had to do something. It took me some time to find an organization that I connected with and Fashion Fights Cancer allows me to use my skills and my love of fashion to help those who need it. I am truly humbled to be a board member and am currently working on their social media.
How can others become a part of or contribute to Fashion Fights Cancer?
As many of you know, I recently became a board member of Fashion Fights Cancer. Fashion Fights Cancer is a nonprofit organization that supports cancer patients and survivors through fashion related masterclasses and workshops. It can be incredibly beneficial for patients and survivors in their healing process to express themselves through art and fashion as well as find a sense of community during FFC events. I am often asked by friends and follows how best to help Fashion Fights Cancer. Monetary donations are always welcome and aid in funding the organization's programs, but volunteering with FFC is just as important. Spending time with those who attend our events and volunteering time to help put on the events is an incredible way to get involved. If neither of those is an option, spreading awareness of FFC can have a huge impact by both reaching new donors and new participants. 
Where do you see LNS in 5 years?
I see my team and I continuing to grow Luxury Next Season by maintaining our dedication to communication with our customers and by using our social media channels. I am excited for people to see Luxury Next Season as more than just a place to shop. We are known to find runway sold out luxury products for our customers. It excites me for people to see that we are dedicated to doing our part to make the world a better place. I am incredibly proud of what we have built since I started Luxury Next Season and I am confident that we will continue to grow and succeed. 
Subscribe to our newsletter: